Swarovski Fall Winter 2019/20 Launch - Be Yourself!
Author: Lynda Taylor Date Posted:4 September 2018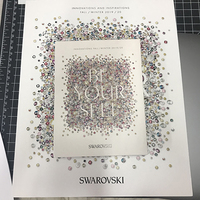 Today we celebrated the launch of the Fall Winter 2019/20 Collection with the arrival of the new collection book and sample box - the video below was filmed as Lynda opened the box for the first time.
This Collection theme is Be Yourself and Swarovski released this statement to describe the launch
"In an era of "stuffocation" and data manipulation, with algorithms feeding us our product choices, consumers demand, not only to look different, but that their products are created to reflect their individuality. Driven by the "Selfie generation" even previous group activities, such as karaoke, are being overturned. And it does not end there, individualized technology called Ego-Tech, where technology makes actual consumption decisions for the individual consumer, has arrived.
Today, Kentucky Fried Chicken in China scans people's faces and, based on aspects such as skin tone, face shape and emotional state, algorithms put together a recommended menu for the individual. Cosmetic companies, such as Lancôme, offer the possibility to create a truly customized foundation based on an individual skin scan, and mood measuring monitors in clothing stores make color choices for consumer's clothes. Welcome to the age of extreme individualization – where the message is abundantly clear – it is time to just Be Yourself!"
Official Launch Video from Swarovski
---
Leave a comment