Rosary Beads
Author: Denise Taylor Date Posted:14 February 2015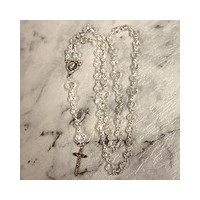 Making Rosary Beads, we custom make a number of different styles of Rosary beads each month. In addition to this we teach classes on how to make Rosary Beads, this blog is addressing many common questions we are asked regarding rosary beads.
Making Rosary Beads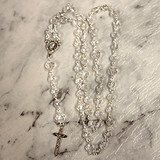 We currently have a lot of people interested in making rosary beads. Here are some of the questions we are often asked.
What are rosary beads usually made from?
Rosary beads are commonly made from glass, plastic or wooden beads. They are also made from precious materials such as gold, Swarovski crystal, agate, onyx, rose quartz and other gemstones.
How are rosary beads made?
Early rosary beads were made using thread or silk. Today rosary beads are usually made using a series of linked beads.
How many beads are there in Rosary beads?
Rosary beads usually consist of 59 beads: 53 Hail Mary's (or Ave's / Ave Maria's) and 6 Our Father's (Pater's). The Our Father's are usually distinguished from the Hail Mary's to assist with the prayer count. This can be done by adding extra links between the Hail Mary's and the Our Father's or using a different (usually larger) bead for the Our Father's.
On the circle there are 5 sets of 10 Hail Mary's (50), separated by 4 Our Father's (4). On the pendant there is one Our Father at each end (2), separated by 3 Hail Mary's (3)
What size beads are used to make Rosary Beads?
The size of beads used to make rosary beads is a matter of personal choice. Beads used for Hail Mary's are usually between 3mm and 8mm and Our Father's between 4mm and 10mm.
How are the beads linked?
There are machines that are used to link rosary beads. Hand made linked rosary beads are usually made using eye pins or head pins. Each bead can be threaded onto a head pin and a consistent 1.5mm loop made on each end or threaded onto an eye pin and a loop made consistent with the existing head pin loop. Once each bead has been looped at each end they are joined together by opening a loop on one bead, linking in another bead and then closing the loop. This process is repeated until all of the beads are linked.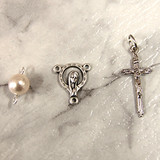 What else do you need to finish rosary beads?
A rosary centre and a cross or crucifix are used to complete rosary beads. These are usually attached to the rosary using jump rings.
Where can I get beads for making Rosary beads?
Banjos Bead House has a wide range of 3mm to 10mm beads that are suitable for making Rosary beads.
Where can I get rosary centres, crosses and crucifixes?
Banjos Bead House has a wide range of rosary centres, crosses and crucifixes.
Where can I buy rosary beads?
Banjos Bead House has a range of rosary beads available. We also custom make rosary beads, just select the beads, rosary centre and cross or crucifix from our wide range and we will make them for you as required.
Where can I learn how to make rosary beads?
Classes in making rosary beads are available at Banjos Bead House. Classes can be arranged at a time to suit you, just phone or email to make a booking: 02 9898 1661; banjosnt@iinet.net.au
---
Leave a comment