Crafting in the face of COVID-19 and Stage 4 restrictions
Author: Paula Gething Date Posted:1 October 2020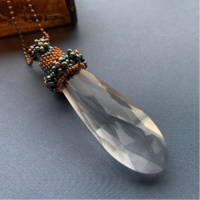 Crafting in the face of COVID-19 and Stage 4 restrictions
Whilst we wait patiently in Melbourne for the lifting of the Stage 4 restrictions as a result of COVID-19 and the worldwide pandemic, it has had some very positive outcomes for On A String.
Beading in isolation has required me to think creatively about connecting to fellow beaders. Whilst we've been used to meeting in person, both at home and through beading events, this pandemic has caused beaders to look for new ways to connect and learn.
It has borne a whole range of online workshops and new beading tutorials, which have helped to craft whilst at staying home.
Zoom Workshops
It's been fabulous to schedule a whole of new workshops, using the space to share creativity and connect with beaders from all over the world. Using the power of technology, a simple phone camera and laptop, I've been teaching new designs and have loved having students from far and near join in. Working in partnership with Banjo's Bead House to provide kits to potential students has meant that people have been able to access new beads as they need them for the On A String projects, all delivered to their door!
What can you make at home?
Beading a new pair of earrings is a fun activity to do at home, whilst you're on lock down – or any other time. Earrings help make your Zoom meetings shine and when you can say 'I made them myself' you get little boost out of being productive during your stay at home phase. Our little Glass Flower Earrings are a great way to feature a glass component, some simple bead fringing and a big earring hook – your very own handmade 'statement earring'.
The On A String range
The other beauty of being locked down at home has been the opportunity to create some fun new pieces for the On A String range. Just recently, I demonstrated using 'found objects' in beadwork through a Facebook Live demonstration, where I used vintage chandelier parts in creating a classy pendant and earrings. These are now available, and you can see them here