Facebook Friday - Seed Bead September 2020 #4 - Rolling Rivoli Earrings
Author: Lynda Taylor Date Posted:25 September 2020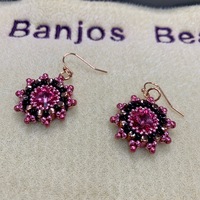 This week Lynda is having fun with sparkly Swarovski Rivolis to make a stunning pair of earrings with a simple bezel technique.
If you are a beginner and have wanted to try bezeling this is a great piece to try as it is a quick simple bezel around as 12mm Swarovski Rivoli using the 2 Hole Rulla's and a 11/0 Rocailles. In addition you will need some 15/0 Rocailles and a few 8/0 Rocallies and any other beads you would like to use to further embellish the base design. Lynda used Toho Seed beads in the live video
A printed pattern and beads to use in this are available in our Seed Bead September 2020 Project Box or you can download the pattern here. Thank you to Nela Kabelova for this fabulous design.
(I am having an issue embedding the video - hopefully I can fix this soon)
---
Comments (2)
thankyou

By:

alex

on 26 September 2020

What a clever idea using rullas for beginning bezels. I wished I had known that from the beginning
---
Rolling Tivoli earring

By:

Kelly

on 25 September 2020

Great class today love the colour combinations
---
Leave a comment