Holy Medal of the Week - Infant of Prague
Author: Denise Taylor Date Posted:26 April 2017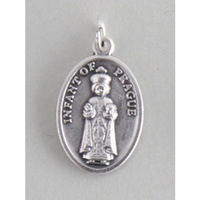 Infant of Prague
Patron of Children and Schools
The Infant Jesus of Prague or Child of Prague is a wax-coated wooden statue of Jesus as a child, studded with diamonds, wearing a golden crown and holding a golden orb in his left hand. It is 48cm high and dates from the 16th century.
The statue has been moved several times during its history and is now located in the Our Lady Victorious Church in Prague, Czech Republic. Copies of this statue have been placed in homes and churches across the world.
Many miracles have been attributed to the Infant of Prague including saving all the children of the city during one invasion where they were taken to the church for protection.
For Infant of Prague Medal and Relgious Items for sale please click here
---
Leave a comment