---
Swarovski Innovations Spring/Summer 2015 - Traces of Time
Swarovski's Spring/Summer 2015 Innovations include a remarkably inventive collection of cuts, colors, effects, and line extensions. With a distinctive, state-of-the-art originality, they are guaranteed to set customers apart from the crowd.
Under the theme, 'Traces of Time', brilliant arrivals such as the Crystal Iridescent Green Pearl effect, the darkly glamorous Skull Bead, and the stunning icicle-shaped Crystalactite Pendants (Maison Martin Margiela for Swarovski) offer consumers truly unique design possibilities.
Crystal Iridescent Green (001 IRIG) - New Effect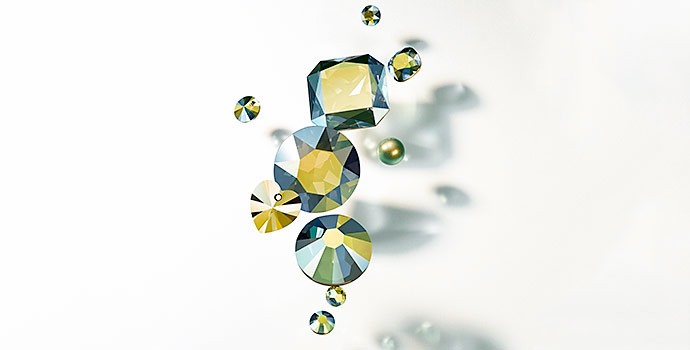 Thanks to its timeless quality and metallic glow, Crystal Iridescent Green is an asset to any design. It can be used in both traditional and modern compositions. For a mysterious shine add it to dark and metallic hues. Create sophisticated looks by combining it with opals or tone-on-tone colors. Crystal Iridescent Green is a perfect companion for beige and nude tones, expressing refinement and class.
Crystal Iridescent Green Pearl (001 930) - New Effect
Swarovski Crystal Pearls perfected with a glowing aura – The shimmering golden-green Crystal Iridescent Green Pearl is totally new - a unique beauty that stands in a class of its own.
Not only does its semi-matte surface offset brilliant crystal elements to perfection, the Crystal Iridescent Green Pearl gives warmth and depth to modern forms by evoking ancient aesthetics. With the high demand for metallics set to continue, it's destined to become a classic.
Tangerine (259) – New Color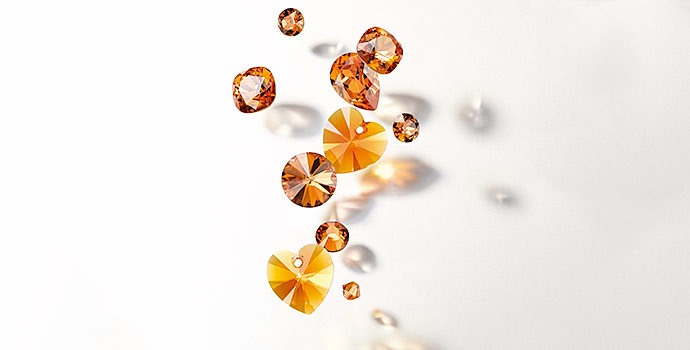 A strong warm orange tone, Tangerine provides a vibrant addition to the color range.
Combine Tangerine with warm, saturated colors such as browns and golds for a modern, elegant look. Create expressive styles with the contrast of soft greens and blues, or marry Tangerine with darker hues for edgy effects.
Maison Martin Margiela for Swarovski Crystalactite Pendants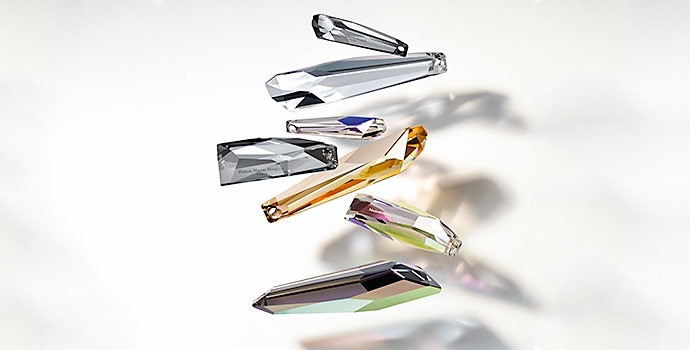 The Crystalactite Pendants are an exciting, contemporary interpretation of a natural stalactite and were developed in collaboration with the renowned fashion house Maison Martin Margiela. Together with an easy-to-apply hole at the top, the Grand and Petite Pendants offer myriad design possibilities for strong, contemporary designs, and for recreating haute-couture looks.
---