---
Swarovski Innovations Fall/Winter 2017/18 - The Nature of Us
Discover the Swarovski crystal collection for Fall/Winter 2017/18 and explore the Crystal Shiny LacquerPRO range in rich jewel colors, including the new effect Crystal Rainbow Dark. This season's innovations also include the tribal inspired Designer Edition crystals from Céline Cousteau and the Triangle Flat Back range of crystals.
As part of the Fall/Winter 2017/18 crystal collection, Swarovski has also embarked on a close collaboration with Céline Cousteau that echoes the theme, called Tribute to Tribe Collection. Famously dedicated to saving the oceans, more recently, the granddaughter of legendary ocean explorer Jacques-Yves Cousteau has been working with an indigenous tribe to protect the Brazilian Amazon's fragile ecosystem. Her crystal collection is based on the tribal decorations seen painted or tattooed on skin, and include the new Oval Tribe Fancy Stone, the Rhombus Tribe Fancy Stone, and the Cross Tribe Pendant.
In addition, The Nature of Us presents four further sub-themes: Soul Food, Work Life, Travel Age and Party Spirit. Discover more about each of Swarovski's new 2017/18 crystal collections below, and the motifs which bind together each of the latest innovations.
Classic Trend: Soul Food
Swarovski's new classic crystal collection exudes a simplicity of subdued, authentic colors, with Nude and Olivine creating a pure natural highlight. This season, Lilac is the new pink.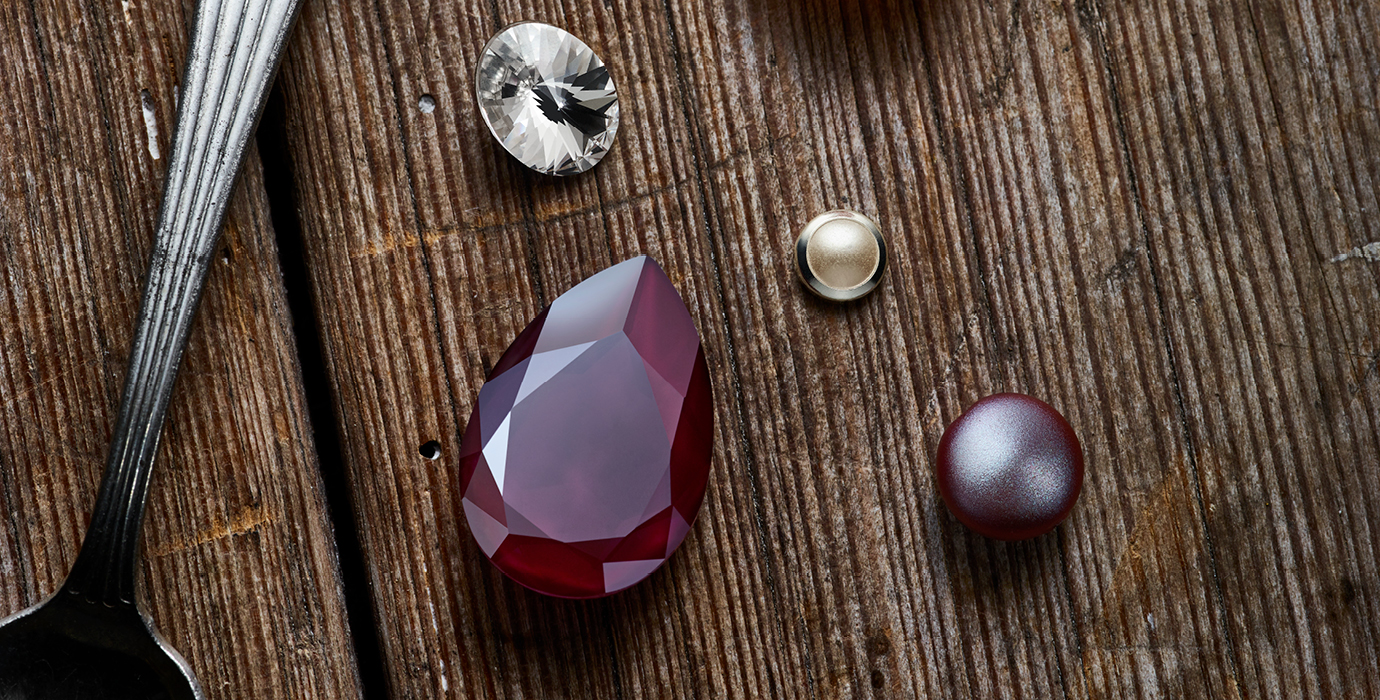 The Soul Food theme hinges on the importance of back stories, the emotional interaction that has become a deciding factor for consumers on a global scale, and the importance of regeneration and reuse.
A pure, humble aesthetic of down-to-earth, functional and gender-neutral lines prevails, with a focus on regeneration and reuse. Today's well-informed consumer not only wants to know where products are from, but also that they will make a positive difference. In step with this consciousness are a no-waste ethos and a desire for less clutter, along with a keen awareness of craftsmanship, materials and details. Quality is paramount in sustainable, hardwearing designs decorated with crystals.
Progressive Trend: Work Life
The colors in Swarovski's new progressive crystal assortment take their cue from sustainable design, with a palette of smudged pastels and mid-tones appearing as though they have been altered through time or recycling.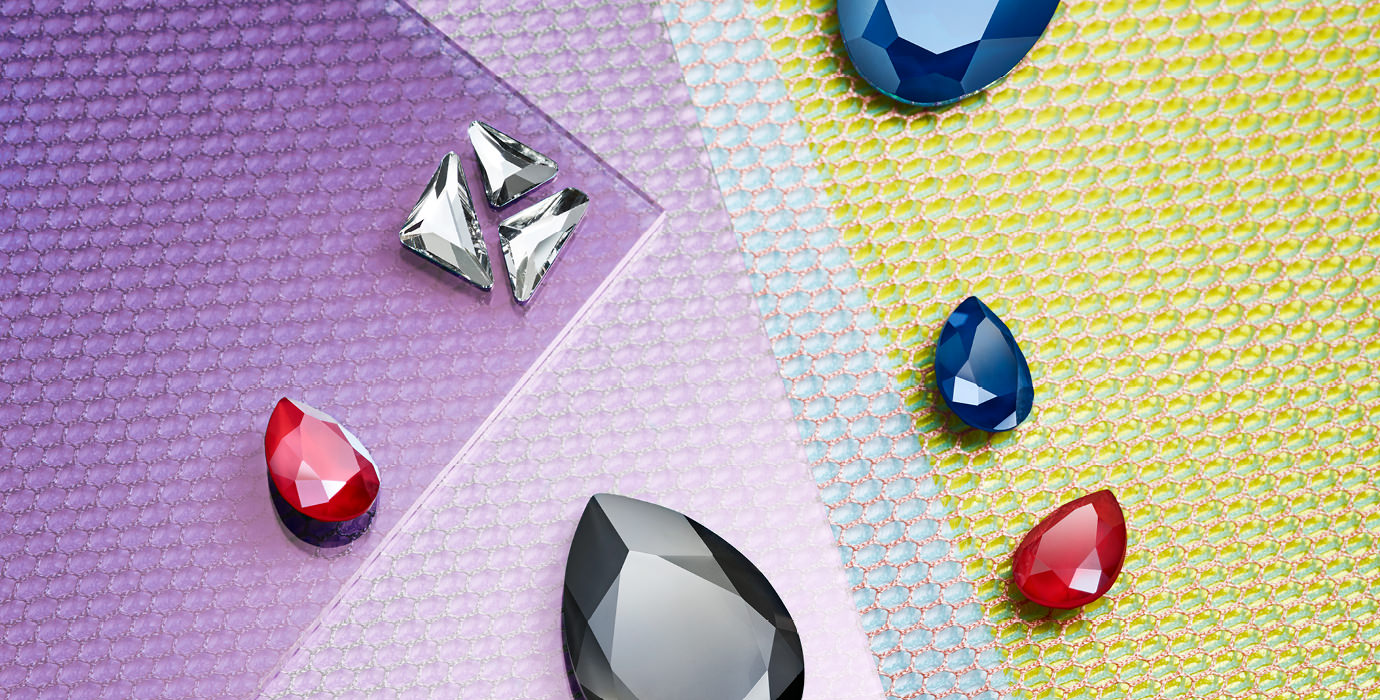 The arrival of robotics in the workplace has prompted a new aesthetic. Designers are creating playful looks that humanize and feminize this continuing development, underlining the notion that fun is central to our working lives. Crystals incorporated into modern designs convey a sense of happiness, and smudged pastels and mid-tones look as though they have been altered by the passage of time.
Fashion leaps forward with accessible business styles that suit a time-poor lifestyle, with sleek lines in luxurious but sustainable materials. The boundary between athleisure and fashion continues to be eroded, with performance fabrics crossing over into the workwear arena. Material mixing continues its ascent with a futuristic blend of recycled plastics and radiant crystals in the same garment—Crystals appear at any time, day and night.
In jewelry, architectural minimalism meets playfulness, and simplicity merges seamlessly into sophistication. Architectural lines are expressed in classic and geometric crystals shapes. Versatile, very wearable, crystal jewelry pieces—including body jewelry—redefine the concepts of flexibility, individuality and exclusivity.
Romantic Trend: Travel Age
The new "anything goes" attitude has led to an increased desire for unconventional experiences in remote places and cultures. Partly fueled by the "selfie" culture, millennials and Generation Z are expressing their personalities with imaginative and highly individual fashion choices. Romantic, exciting and eccentric; Swarovski's Travel Age crystal collection offers the chance to express a free-spirited, bohemian attitude.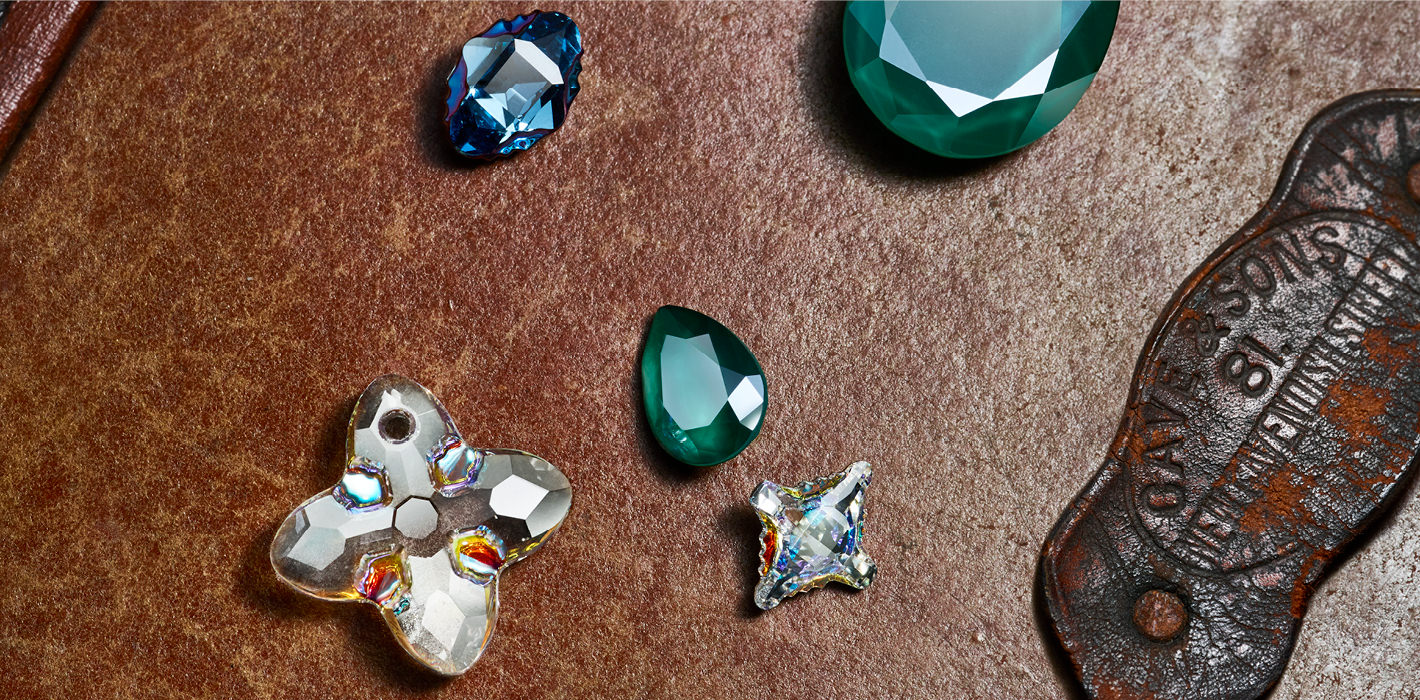 The resulting cross-cultural mash-up is demonstrated in strong, eccentric styles with a look-at-me attitude. Artisanal skills from various cultures come together in print, color, texture and crystal all clashing and matching at once.
Sustainability is also a powerful driver. Reclaimed textiles together with organic and synthetic waste materials are regenerated as new fabrics. They are made luxurious with the addition of crystals.
Three-dimensional textures with embedded crystal make interesting tactile surfaces, and patchwork created from crystal patterning references the cross-cultural patchwork of today's society.
In jewelry, this cross-cultural direction is displayed in unexpected material mixes, such as polished metals, leather and synthetics combined with crystal Transfers. Traditional arts and crafts are revisited and given crystal detailing in a unique contemporary aesthetic.
Ceremonial jewelry pieces, inspire designs that are reinterpreted and enriched with colorful fabrics, crystals, and carved metals. Resin, synthetics and crystals merge with folkloric elements in unusual designs, while bold crystal body jewelry symbolizes our multicultural future.
New crystal elements in triangular, round and square shapes work together in eclectic combinations to achieve this anything-is-possible design mindset. The mood is perfectly captured in the Tribute to Tribe collection designed by Celine Cousteau. Inspired by her project Tribes on the Edge and through experiences with indigenous tribes in the Brazilian rainforest, environmentalist and humanitarian Céline Cousteau presents her second Designer Edition for Swarovski: pristine tribal symbols that celebrate the interconnection of mankind to nature.
Glamour Trend: Party Spirit
This translates into a look that is distinctly rock-'n'-roll, worn with a just-thrown-together attitude at any time, night or day. Swarovski has captured this Party Spirit in the bold, flamboyant range of luxury crystals in the Glamour Trend collection.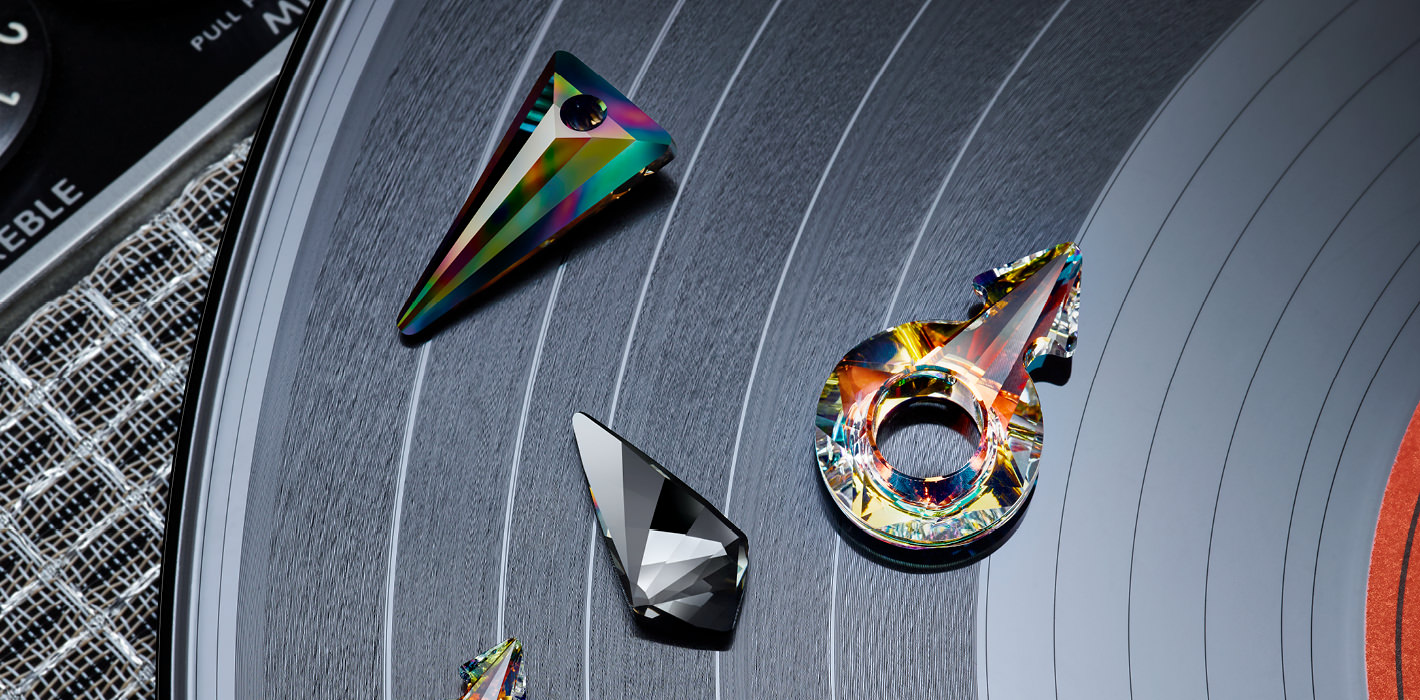 With a nod to the theatrical style and stage presence of music legends from the past. In this direction, nothing is out of bounds. Rebellious, gender-fluid design statements are boldly expressed in luxury materials combined with leather, chains, beads and crystals. A strong color palette with metallic riffs of silver and gold, with detailed crystal patterning inspired by the 70s and 80s, foretells a new glam-rock direction.
The effect on jewelry is pronounced: refinement merges with rebelliousness in a trend where delicate crystal shapes are subverted. This individualism is captured in Swarovski's Kite Fancy Stone and glam-rock Female and Male Symbol Fancy Stones, while the metallic luster of the new Crystal Rainbow Dark effect offers an edginess that's perfectly in step with this gender-neutral glamour.
Androgynous pieces are jumbled together in a melting pot of patterns and textures, eras and genders. Shapes are sculptural and exaggerated; zip-inspired jewelry and unconventional, embellished chains add an edgy twist; and gunmetal and hardware enhance the rebellious feel. Statement crystal chokers reference 70s glam-rock, while signet rings embedded with crystal take on new proportions. This is contemporary, irreverent, edgy glamour with an unapologetic more-is-more attitude. Understatement is not an option.
---